The Montreal National Home Show, scheduled for March 12-15, 2020, has been cancelled as a result of the Coronavirus (COVID-19) outbreak. During this time, we urge all in the community to follow guidelines from local public health officials. The wellbeing and safety of all attendees and exhibitors are our first priority in creating a dynamic marketplace. Be safe, and we look forward to seeing you at the 2021 Montreal National Home Show, March 11-14, 2021 at the Palais des Congres.

If you are an exhibitor, we will be contacting you via email with additional details, but you will be automatically booked for next year's show.


We are waiting for you at the
PALAIS DES CONGRÈS
FROM MARCH 11 TO 14, 2021
Dates & Hours
Thursday 12:00 p.m. - 8:00 p.m.
Friday 10:00 a.m. - 9:00 p.m.
Saturday 10:00 a.m. - 8:00 p.m.
Sunday 10:00 a.m. - 5:00 p.m.
Note that the ticket counter closes 1 hour before the end of the Show.
Admission
Adults
Seniors (60+) and students
Children from 6 to 12
Children 5 and under

Familly (2 adults + 2 children)
For every additional child
$16
$13
$6
Free

$35
$6

$2 Online Discount, thanks to

*Service charge: $1 - Discount applicable on the value of a regular ticket $16
Show Location
Palais des Congrés
1001, Place Jean-Paul-Riopelle
Montréal, Québec
H2Z 1H5
https://congresmtl.com/
(514) 871-8122


PARKING
Indoor Parking rates Palais des congrès,
1025 rue Chenneville (400 spots)
Indoor Parking rates Quartier International of Montréal (QIM),
249 Saint-Antoine West (1 200 spots)
WHEELCHAIRS
It is possible to borrow a wheelchair when attending the show. This service is available free of charge but must be booked in advance.
Fill the application form for Complimentary Wheelchairs.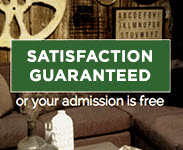 We're so sure you'll love your day spent at the Montreal National Home Show that we'll refund your admission if you are not satisfied! Any attendee not completely satisfied must visit the on-site Show Office while at the event to receive a refund request survey. The value refunded will be per your receipt and mailed to you after the show (within 45 days).